European Golden Visa Countries Offering Residency by Investment
The past decade has seen an immense growth in "investment immigration" in Europe. Aptly named Golden Visas were only introduced in Europe in 2012 (starting with Portugal), but have since become commonplace in many European nations seeking to capitalize on the newly formed market of selling residencies in return for an investment. Golden Visas enable individuals the ability to become European residents in exchange for a cash donation or through a purchase of a piece of real estate property.
If you are looking for the easiest ways to get citizenship in Europe what you need is two things: a minimum initial investment, a few months waiting for the process to go through then a European Golden Visa could be just the thing for you.
Table of Contents: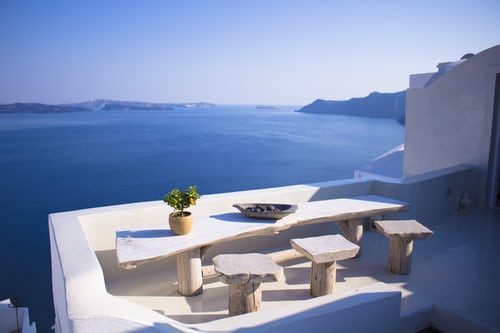 What is a Golden Visa?
Golden Visas is the term used for residence by investment programs; initially, it was used as a phrase that was particularly mentioning the European residency visas, however now it is often used when speaking about other citizenship by investment programs in general - both in Europe and in the Caribbean.
With that said we will use the term Golden Visas to refer specifically to programs where you can achieve permanent residency through cash donation or real estate option. These programs allow individuals (and their families) the ability to qualify for temporary and/or permanent residence which can lead to citizenship if the person qualifies after x number of years.
The reason why the term "Golden Visa" was coined was because these visas were seen as a golden ticket to become a resident in a top-tier European country. Though there are many other non-European countries which offer residence programs none of them come with the benefits that are found through a European golden visa.
Most European residency by investment programs begin by qualifying for temporary residence. After a certain period of time, you can qualify for permanent residency status and finally even full citizenship after completing the country's standard naturalisation process. Be aware that citizenship is not ultimately guaranteed, though it is more likely in some as apposed to others.
Why Choose to Get One?
There are many reasons why you would decide to try and obtain a coveted European citizenship, but there are also some potential downsides to be aware of.
There are significant benefits to being able to call yourself a permanent European resident. There is of course the immediate benefit of being able to live and work in the European nation you have chosen. It doesn't end there, other benefits include:
1. Access to the whole of Europe
Having a residency permit in any European nation gives you visa-free access to the whole of the EU and Schengen area. This allows you to work and travel freely throughout Europe without any hassles. This is a major benefit, and means that your newfound freedom is not restricted to the individual country you have chosen.
2. Dependents are welcome
All European Golden Visa programs allow you to include your spouse and children, usually at a nominal additional fee.
3. No physical presence requirements
Many of the European residence by investment programs do not stipulate minimum physical presence requirements. This means that you don't even have to live in the country to maintain your residence permit if you so choose.
4. First step towards citizenship
If your eventual goal is to become a fully-fledged European citizenship, then permanent residence is the first step. It will enable you to undergo the standard naturalisation process and eventually be eligible to apply for citizenship. Note that there are no guarantees of successfully being granted citizenship, and this path will definitely have stricter physical presence requirements and other criteria to meet.
Get a Consultation & Start Your International Plan
Disadvantages
Although European residency is highly sought after and comes with various perks, there some downsides to be aware of. Depending on your situation and your purpose for obtaining residency, these may include:
1. Few tax benefits
One of the major reasons why many look for alternate residence and/or citizenship is to legally reduce their tax burden. Unfortunately, most European nations do not offer tax waivers to their residents by investment. However, with that said Malta and Portugal do have low tax possibilities. This of course only applies if you actually physically live in the country (usually 183 days a year or more). In addition to this, many European nations have some of the highest personal tax rates in the world, meaning that it is not an ideal place to try and escape high taxes.
In this regard, low-tax and tax-free jurisdictions like those in the Caribbean offer a better way to legally reduce your taxes through second citizenship.
2. Expensive
The other downside of Golden Visa programs is that most of them tend to be quite costly. You need to be willing to make an investment/donation of at least EUR 100,000 to qualify for any of the Golden Visa programs (most other programs are upwards of 500,000 EUR). This is quite substantial when you consider the fact that you can become a full citizen and a passport of Caribbean nations such as Dominica for as little as USD 100,000. There are other great residence options, such as Panama and Malaysia, where it is possible to easily acquire residency for a fraction of the cost.
That said, for those with the means to afford it, becoming a permanent resident of a top-tier European nation is well worth the cost.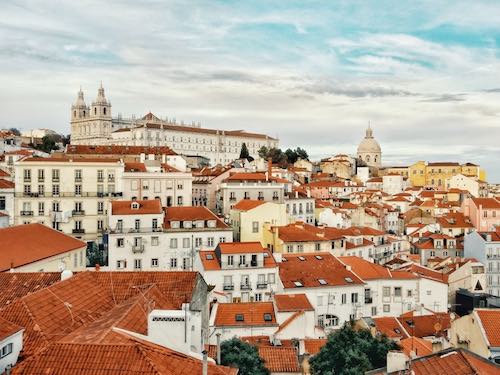 How To Get It?
Each European country with a Golden Visa program has their own specific qualification requirements. However, the general requirements which are common to all of them include:
Having sufficient funds to make the qualifying investment (wither in cash donation or real-estate donation)
Proof that the money was legally acquired
Clean criminal record
Proof of economic ability to be able to sustain yourself and dependents once you become a resident of the European country in question
The time also varies depending upon the country. For countries like Spain it can take anywhere from 1-3 months whereas Portugal can take anywhere from 3-6 months.
Best European Programs
Golden Visa programs in Europe are becoming increasingly popular. Since its inception in 2012 it has now spread to over a dozen countries in Europe, with many more countries around the world adopting similar investment migration opportunities. An increasing number of countries are offering this option to incentivize investment within their borders as well as to prop up the ailing real estate markets.
We will outline 7 of the top EU Golden Visa programs; however, this is not an exhaustive list. There are certainly other worthwhile programs out there, so it is important you do your own additional research to find the country which most appeals to you.
Malta
Portugal
Spain
Greece
Italy
Latvia
Bulgaria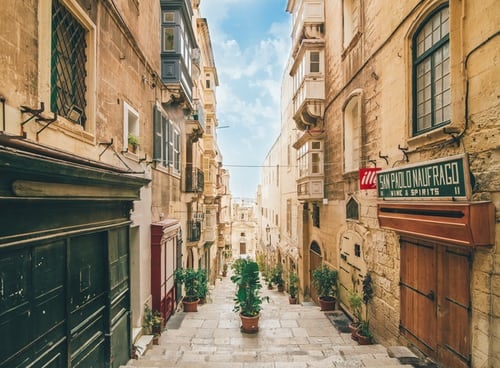 Top EU Countries to Get Residency By Investment
1. Malta
Malta's citizenship by investment is most well known and consequently the only "official" European nation to do so (Cyprus recently canceled their citizenship by investment program). The citizenship by investment program 600,000 EUR
Fortunately, Malta also offers a separate residence by investment program. This is much more affordable at under EUR 300,000. It comes with the condition that you must physically live in Malta, and purchase and/or rent a property there.
If your main purpose for acquiring residency is to live and work in Europe, without the need for a second passport, then the Maltese residence by investment program is a good alternative to the full citizenship program.
Malta MRVP Residency Program
*UPDATE: Malta has launched a new MRVP program starting March 29, 2021, in addition to their already established citizenship program, there is a permanent residency program that gives permanent residency to international clients for a donation of 100,000EUR. To be eligible you need to have an income of over 100,000 EUR with assets more than 500,000EUR. The program gives you and your dependants the ability to live in Malta indefinitely if you qualify.
2. Portugal
Portugal was one of the very first European nations to introduce a Golden Visa program and is still one of the most popular around. Portugal introduced their Golden Visa program back in 2012, as a result of the need to sell much of its free real estate. It had the idea to offer this real estate to foreign investors in exchange for residency.
Portugal offers a number of different investment options in order to qualify for residence, ranging from EUR 250,000 to EUR 500,000. A major benefit of the Portuguese residency program is that you do not actually have to physically reside in Portugal to maintain permanent residency status, and only need to visit for two weeks every year. It is one of the only countries which allow you to be eligible for citizenship after 10 years without having physically lived in the country.
Portugal is an attractive place for European residency. Not only is it one of the easiest and most affordable options around, but is an attractive place to live, with its warm weather, beautiful beaches, friendly population, and affordable living costs.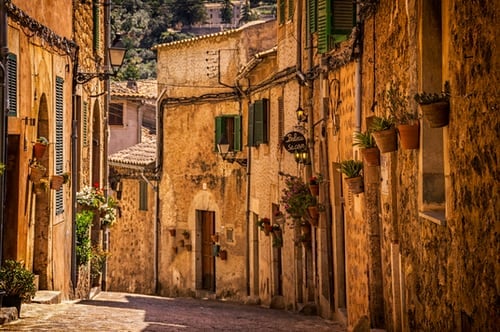 3. Spain
Along with Portugal, Spain is the other old-time favourite of European Golden Visas. Spain started its Golden Visa program as a way to boost its ailing economy, and the program has grown in popularity since. It offers similar benefits in terms of its excellent quality of life, affordability, and rich culture.
To qualify for residence by investment in Spain, you need a minimum of EUR 500,000 real estate investment. Other options include an investment of EUR 1 million in shares, or a whopping EUR 2 million in Government bonds.
In addition to its attractiveness as a location to live, Spain offers great business opportunities as a result of its strong connections to Europe, Africa, and Latin America. After acquiring the Spanish Golden Visa, you will be eligible for permanent residence after five years and full citizenship after ten years.
4. Greece
Greece, another Mediterranean gem, offers a highly attractive Golden Visa program. The minimum investment amount is EUR 250,000. Fortunately, there is a good degree of flexibility over the type of investment you can choose, with the most common being some form of real estate investment.
Another advantage of Greece is that there are no physical presence requirements to maintain your permanent residency status. However, if you want to apply for full citizenship through a naturalisation process, you do need to physically reside there for at least seven years consecutively.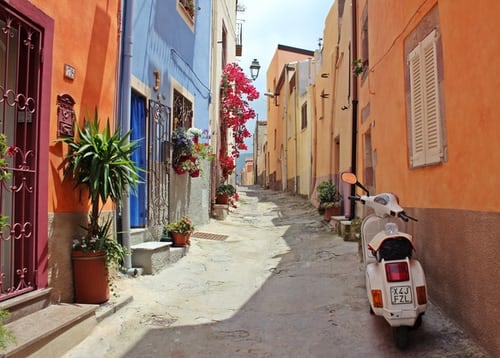 5. Italy
Italy offers a Golden Visa with various investment options to choose from. Interestingly, it is one of the only countries where real estate is not one of the investment choices for Golden Visa eligibility. The most common options are either through an investment of EUR 500,000 in a company incorporated and operating in Italy, or a EUR 250,000 in an innovative startup business in Italy. Other options include a philanthropic donation in one of various fields (e.g. culture, education, or scientific research) and a Government bond investment.
Italy is a highly desirable European nation for residency. It offers a pleasant climate, plenty of entertainment and good food, and excellent public services and infrastructure. Like the other European Golden Visas, residency status in Italy will allow you and your family visa-free travel throughout the Schengen area. After five years of residency, you can apply for permanent residency, and after ten years you may be eligible for citizenship.
6. Latvia
Latvia is popular as one of the easier European nations to acquire residency. It offers a residence permit in exchange for a EUR 250,000 real estate investment. You are only required to visit the country once a year to maintain residency status, and after five years you can qualify for permanent residency.
After a further five years as a permanent resident, you may be eligible for citizenship by naturalisation. However, the requirements for full citizenship are a bit stricter. You need to have physically lived full time in Latvia to qualify, demonstrate that you are fluent in Latvian, and be ready to renounce your former citizenship as Latvia does not recognise dual citizenship.
If your intention is only to easily secure permanent residence in a highly liveable European nation, then Latvia is an ideal choice.
Safeguard Your Assets With the Strongest Multi Jurisdictional Asset Protection Structure in the World
7. Bulgaria
Last on our list of top European countries to get a Golden Visa is Bulgaria. Bulgaria offers one of the most straightforward of all the residency by investment programs. There is only one type of investment choice, which is a EUR 500,000 investment in 5-year Government bonds.
In exchange for this investment, Bulgaria offers almost immediate residence status to you and your family. The other major benefit is that your full investment will be returned to you after the five years are over.
This makes the Bulgarian Golden Visa one of the fastest and easiest to acquire in Europe and is an excellent option for those with sufficient capital to meet the EUR 500,000 investment requirement.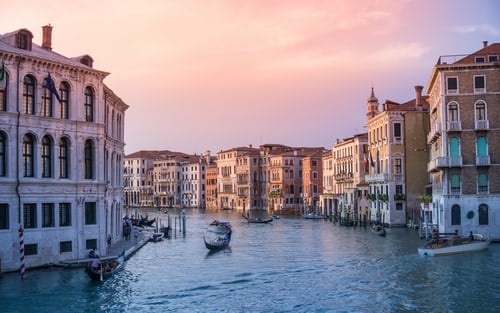 EU Countries List
| | | |
| --- | --- | --- |
| Country | Cost | Full Citizenship Timetable |
| UK | 2,000,000 GBP | 6 years |
| Greece | 250,000 EUR | 7 years |
| Portugal | 350,000 EUR | 5 years |
| Switzerland | 250,000 tax CHF | 3-6 months (CBI) |
| Montenegro | 250,000 EUR | Closing Dec 2021 |
| Spain | 500,000 EUR | 10 years |
| Greece | 250,000 EUR | 7 years |
| Germany | 350,000 EUR | 8 years |
| Ireland | 1,000,000 EUR | 7 years |
| Malta | 600,000 EUR | 3 years |
| Nederlands | 1,250,000 EUR | 5 years |
| Austria | 3,000,000 EUR | 10 years |
| Bulgaria | 512,000 EUR | 5 years |
| Moldova | 135,000 EUR | suspended |
What is An Alternative Program in another part of the world?
Panama launched their new golden visa program in 2021, which offers a much more affordable option in comparison to European countries
What is the cheapest Option?
As of 2021, the cheapest golden visa is currently Malta, as they launched a new residency program for 100,000 EUR + 35,000 fee that is about 50% less than the next country Portugal at 250,000 EUR.
What is the Worlds most expensive Option?
The most expensive golden visa that you can get is from the United Kingdom where the investment that is needed is 2 million pounds.
Do you get permanent residency?
Yes. A Golden visa is a residency by investment that gives permanent residency for the individual and his/her immediate family if accepted. There are conditions that must be fulfilled in order to be accepted and there are usually a maximum number of applicants that are allowed in any given year.
Can I Also get an EU passport?
You are eligible to apply for a passport after you obtain your permanent residency if you fulfill all the obligations required, which vary from country to country. However, getting an EU passport is not guaranteed, however, there are certain countries that are more likely.
Conclusion
The increasing availability of Golden Visas in Europe provides a great opportunity to those with means who are looking for a simple and efficient way to become a European resident and gain visa-free access to the whole of the EU along with it.
If you are unsure of what Golden Visa is for you or are uncertain about the exact requirements and eligibility, then get in touch for a free consultation.
Please note: Offshore Protection does not offer

work

visas services nor services related citizenship through ancestry. We only offer citizenship by investment and golden visa services. Read more for info on EU work visas and EU ancestry visas.