St. Lucia Citizenship by Investment & Second Passport
The Caribbean Island Nations are well-known for their beautiful scenery and climate, laid-back lifestyle, and friendly locals. They are also home to some of the most attractive and affordable Citizenship by Investment (CBI) programs.
St. Kitts & Nevis was the first country to popularise the idea of "buying" a second passport. In exchange for an investment and/or donation, one is able to easily obtain second citizenship without all the fuss of a drawn-out naturalisation process. Since then, many other nations have followed in their footsteps, with most of them being in the Caribbean. These include countries like Dominica, Grenada, and most recently, St. Lucia.
St. Lucia is the newest kid on the block which is offering citizenship by investment in the Caribbean. The St Lucia government launched the citizenship program in December 2015, based on their newly formed Citizenship by Investment Act (Act No. 14 of 2015). The St. Lucia program has quickly become arguably the most attractive and well-structured Citizenship by Investment Program in the Caribbean, and indeed one of the best in the world.
In this article, we will explore the reasons why St. Lucia's CBI program has an edge over the rest, the benefits to obtaining St. Lucia citizenship, as well as the requirements and application process.
Table of Contents: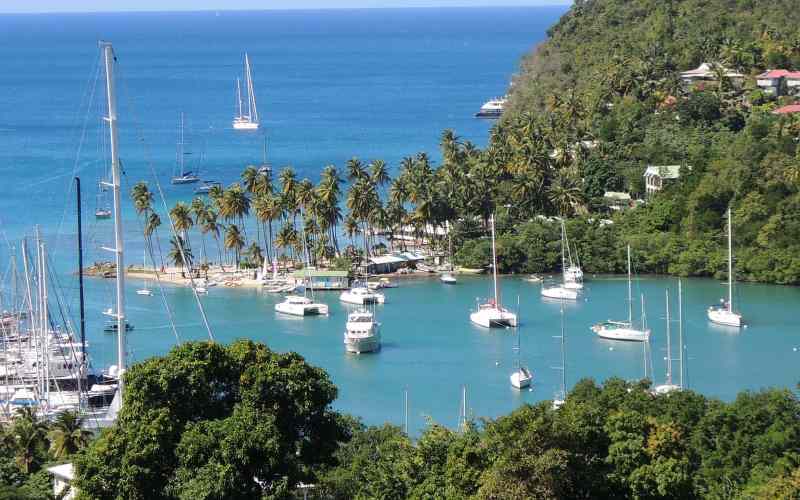 Why Choose St. Lucia Citizenship by Investment?
As the newest Citizenship by Investment program in the Caribbean, St. Lucia was able to learn from the successes and shortfalls of their neighbours so as to design a world-class program. The benefits of choosing St. Lucia as the place to acquire second citizenship can be broken down into two main areas: firstly, the superiority of the actual CBI program itself and, secondly, the advantages of having a St. Lucian passport.
The main benefits of the St. Lucia Citizenship by Investment program include:
Affordability: The St. Lucian CBI program is the most affordable economic citizenship for single applicants. It has the lowest combined minimum investment requirement and fees of any of the other CBI programs which exist, at a cost of only $100,000 (approximately $109,500 including fees). For married couples, the Dominica CBI program is marginally cheaper as they do not require an additional investment amount to include a spouse.
Speed and Efficiency: The entire process of acquiring St. Lucian citizenship usually takes as little as 3 – 4 months. There are no arduous and redundant bureaucratic processes to go through, and no physical presence requirements to qualify.
Inclusion of Dependants: The St. Lucia CBI program is lenient when it comes to the inclusion of spouses and dependants. It allows you to include:
Dependent siblings under the age of 18 who have no children of their own,
Dependent children under the age of 25,
Dependent parents above the age of 65 who are residing with the main applicant,
Spouse.
The additional contribution amount for each dependent varies, but are generally quite low.
Flexibility: The CBI program is highly flexible to suit different people's preferences. It offers four different investment options to choose from. It also only requires the applicant to actually make the investment after they have received confirmation of qualifying for citizenship.
Then there are the many great advantages of having a St. Lucian passport, which include:
Strong passport: Visa-free travel to over 145 countries including the EU, the UK, Ireland, Hong Kong, and Singapore. Compared to its Caribbean counterparts, the St. Lucia passport is more geared towards "Western" nations, and it does not have visa-free agreements with Russia or China.
Tax advantages: Like many other Caribbean nations, St. Lucia offers favourable taxes to its citizens and residents. If you decide to live in St. Lucia and make it your tax home, you will not be taxed on any of your overseas income (i.e., St. Lucia has a territorial tax system). There is also zero wealth and inheritance taxes.
Excellent living standards: While you do not have to physically live in St. Lucia to qualify for citizenship, the fact is that it is a wonderful place to visit and/or live in. It is generally more luxurious and western-friendly than some of its Caribbean counterparts, with a beautiful tropical climate and good services and infrastructure too.
Well connected: Due to its greater affiliation with the Western world, St. Lucia is well-connected to many US states, Europe and the UK, and economic hubs like Singapore and Hong Kong. This is in terms of both trade/business as well as travel routes.
Dual citizenship permitted: St. Lucia does permit dual citizenship which means you will not be required to renounce your former citizenship to qualify.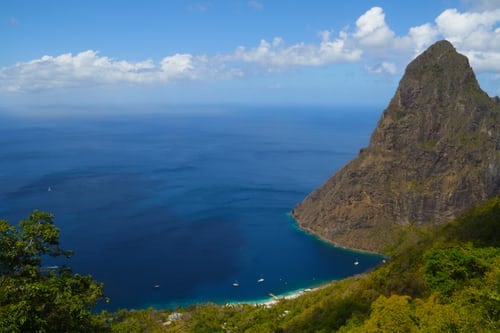 How to Qualify?
The St. Lucia CBI program is simple and straightforward, and anyone who meets the minimum requirements can easily qualify for citizenship and obtain their second passport within 3 – 4 months.
Basic Requirements
Before looking at the qualifying investment options to obtain St. Lucia citizenship, there are some basic requirements that every applicant must meet:
The main applicant must be over the age of 18,
Must have a clean criminal record,
Must be in good health,
Must be of good character,
Must be financially solvent and independent.
Get a Consultation & Start Your International Plan
Citizenship Investment Options
St. Lucia offers four primary investment options to qualify for a passport through their CBI program.
Contribution to the National Economic Fund (NEF)
This is by far the most popular investment option to qualify for St. Lucian citizenship. It involves making a once-off, non-refundable donation to the St. Lucia National Economic Fund of at least $100,000 for a single applicant. The contribution amounts have recently been reduced since the impacts of the Covid-19 pandemic in the hope to encourage continued participation the program. A full break-down of the up-to-date required contribution amounts are as follows:
$100,000 contribution for the main applicant
$140,000 for a couple of two (main applicant and spouse) (previously $165,000)
$150,000 for a family of four (previously $190,000)
$15,000 for each additional dependent (previously $25,000)
The following processing and administration fees also apply:
Processing fees of $2,000 for the main applicant plus $1,000 per additional dependent
Due diligence fees of $7,500 for the main applicant plus $5,000 per dependent over the age of 16.
This effectively brings the total cost to $109,500 for a single applicant, $155,500 for a couple, and $177,500 for a family of four with two children over the age of 16.
The contribution to the NEF is the cheapest and simplest of all the options available, but take note that it is really a donation (not an investment) which means you won't get the money back at any point.
Real Estate Investment
Like most CBI programs, St. Lucia also offers a real estate investment alternative. This involves purchasing a property for at least $300,000 from a list of pre-approved properties. In addition to the cost of the property, the applicant will have to pay for property registration, processing fees, and any taxes which arise.
The property must be held for at least five years, after which it can be sold and the capital recouped. While the fact that you will be able to get your initial investment back may make this option sound attractive, bear in mind that the properties from the pre-approved list are very often overvalued, and you will also incur the additional costs mentioned above. This means you could very well end up incurring a loss.
Safeguard Your Assets With the Strongest Multi Jurisdictional Asset Protection Structure in the World
Government Bond Investment
The third option involves an investment in a five-year St. Lucia government bond. The standard investment amounts are as follows:
$500,000 for a single applicant
$535,000 for a couple
$550,000 for a family of four
$25,000 for each additional dependent
There is an additional administration fee of $50,000 which is non-refundable. So effectively the government bond option can be thought of as a discounted $50,000 donation (compared to the higher NEF donation), along with the requirement to tie up a large amount of capital for five years, which will eventually be returned. This could make it ideal for much wealthier applicants who have some additional capital that they are not planning to invest elsewhere.
For a limited time only, St. Lucia is also offering a discounted bond investment option through their COVID Relief Bond. This is available until 31 December 2021 and involves a discounted:
$250,000 for a single applicant with a five-year holding period
$250,000 for a married couple with a six-year holding period
$250,000 for a family of four with a seven-year holding period
The option to instead donate $300,000 for a family four so as to reduce the holding period to 5 years
$15,000 for each additional dependent
A reduced administration fee of $30,000 (compared to the usual $50,000)
Investment in Enterprise Projects
The final option is the most interesting as well as the most expensive. It has been created so as to encourage foreign investment in important community and infrastructure projects, as well as to create jobs in the process. It involves a minimum investment of $3.5 million in a government-approved enterprise project which are all listed on their official website. It is also possible to share the investment with partners, in which case each partner must invest a minimum of $1 million dollars with the total being at least $6 million.
The range of project categories is quite diverse, including specialty restaurants, cruise ports, pharmaceuticals, agro-processing plants, bridges, roads and highways, research institutions, and offshore universities.
In addition to the minimum investment amount, the following fees apply:
A non-refundable administration fee of $50,000
An additional fee of $35,000 per adult dependent and $25,000 per dependent under the age of 18
Due diligence fees of $7,500 for the main applicant plus $5,000 per dependent over the age of 16.
Go here for more info on: starting a St Lucia Company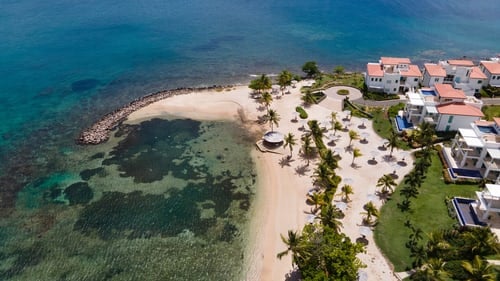 Application Process
The entire application process is extremely simple and efficient. It generally takes no longer than 4 months, and usually as little as 3 months. It involves the following steps:
Complete the initial due diligence procedures at a government approved agency.
Pay any due diligence and registration fees which are required (this will depend on the investment choice).
If your application is approved, you should receive a Letter of Approval within 60 to 90 days from having made your application.
Only after approval will you be required to then make the full payment of the investment amount in accordance with the investment option you have chosen. This must be done within 90 days of receiving approval.
Thereafter, you (along with any qualifying dependents) will receive a Certificate of Naturalisation. You will then be required to take an oath of allegiance before an attorney or notary public.
You and your dependents can thereafter apply for your St. Lucian passport which is usually received within a week.
Fortunately, you are able to add additional dependents to your application for up to five years after your own application is approved.
Conclusion
Anyone who is searching for the best Citizenship by Investment programs out there would do well to seriously consider St. Lucia. The program ticks all the boxes of even the most prestigious CBI programs, at a fraction of the cost. The program might be fairly young without the extensive and proven history of old favourites like St. Kitts & Nevis, but it is clear that they have managed to offer some unique value and learn from the mistakes and successes of their competitors.
Furthermore, due to the recent global upheavals, acquiring second citizenship in St. Lucia is now cheaper than ever. These attractive discounts won't last forever, and so it is well worth acting swiftly and taking advantage of the current circumstances.
If you are unsure whether St. Lucia is the best CBI program to suit your particular needs and preferences, it is always worth seeking the help of an expert who can advise you on the best options for you, as well as draw your attention to the alternatives which exist.
Please note: Offshore Protection does not offer

work

visas services nor services related citizenship through ancestry. We only offer citizenship by investment and golden visa services. Read more for info on EU work visas and EU ancestry visas.