Dominica Offshore International Business Company (IBC)
Overview of a Dominica Offshore Company (IBC)
The Commonwealth of Dominica (not to be confused with the Dominican Republic) is located in the Eastern Caribbean offers attractive offshore formation opportunities for potential foreign individuals and companies.

Dominica currently offers a broad range of offshore services, the most popular product being the International Business Company (IBC), also known as an offshore company or a non-resident company.
The International Business Companies (IBC) Act passed in 1996 offers progressive legislation with a flexible structure and formation process.

Since then, Dominica has experienced rapid growth in the offshore sector due to its liberal legislation, quick incorporation procedures and low government formation fees.
The Dominica IBC offers individuals fully tax exempt status, with zero obligations on financial reporting and low fixed annual fees for licensing.

As an offshore jurisdiction, Dominica is quickly becoming one of the world leaders in offshore business services,
For more information on the Advantages of Dominica as an Offshore Financial Center, click here.


Advantages & Top Uses of a Dominica IBC Company
There are a number of advantages given to individuals and companies who choose to incorporate in Dominica, including:
Flexible requirements - With respect to capitalization, shareholders, directors and shares of the company
Efficient business regulations - Fast incorporation, straightforward registration procedures, no limitations to the share capital value and currency, no requirements of minimum paid-up capital
No financial reporting requirements - Financial statements are not made available to the public
Flexible legislation - Allows for multiple uses of a Dominican offshore company
High Confidentiality and Privacy - Names of directors and shareholders are not made public. Additionally, nominee shareholders and directors are also available in Dominica, providing yet another layer of privacy
Asset security and protection - Maintained via provisions that restrict seizure, expropriation or confiscation of assets by foreign authorities or creditors
Dominica's offshore jurisdiction enables companies and individuals to take advantage of numerous other benefits including:
Zero tax
Political and economic stability
Absence of exchange, currency and capital controls
Absence of tax treaties
Modern and simple incorporation laws and procedures
Excellent communications and transportation systems
Superior banking and professional services
An English Common Law System
English speaking country
Minimum disclosure requirements
Currency diversification
Limiting personal liability
Reduction in transaction costs
Top Uses of a Dominica Offshore Company
Due to Dominica's progressive IBC legislation, incorporation procedures are both easy and flexible, making an IBC a useful tool for many different business activities.
The formation of an IBC can be made for any legal purpose and for any legal activity, except for the banking and insurance sectors. An IBC can be used for any commercial enterprise, including but not limited to:
Offshore savings and investments
Manufacturing
Transportation
Trade and distribution
Forex and stock trading
Professional service company
In order to carry out certain activities, proper licensing is required for:
Online casino and other online gaming
Ship management and other maritime operations
Owning and lease of yacht and vessels
Key Corporate Features of a Dominica Offshore Company
Dominica IBC

Corporate Details

General

Type of Entity

IBC

Type of Law

Common

Governed by

International Business Companies (IBC) Act 1996




Companies Act 1994




Offshore Banking Act 1996

Registered Office in Dominica

Yes

Shelf company availability

Yes

Our time to establish a new company

1-2 Days

Minimum government fees (excluding taxation)

$405

Corporate Taxation

Exempt for 20 years

Access to Double Taxation Treaties

No

Share capital or equivalent

Standard currency

US Dollar

Permitted currencies

Any

Minimum paid up

$100

Usual authorized

No Limit

Bearer shares

allowed

Yes

No par value shares allowed

Yes

Directors

Minimum number

One

Local required

No

Publicly accessible records

No

Location of meetings

Anywhere

Corporate directorship allowed

Yes

Shareholders

Minimum number

One

Publicly accessible records

No

Corporate shareholder allowed

Yes

Location of meetings

Anywhere

Company Secretary

Required

No

Local or qualified

Not required

Accounts

Requirements to prepare

Yes

Audit requirements

No

Requirements to file accounts

No

Publicly accessible accounts

No

Recurring Government Costs

Minimum Annual Tax

$405

Annual Return Filing Fee

Nil

Other

Requirement to file annual return

No

Migration of domicile permitted

Yes



Dominica International Company Registration Package
Includes:
Government Registration Fee (First year)
Registered Office Address (First year)
Registered Agent Services (First year)
Company Secretarial Maintenance
Certificate of Incorporation
Memo & Articles of Association
Appointment of 1st Directors
Consent Actions of the BOD
Share Certificates
Register of Directors
Register of Officers
Register of Shareholders
FREE Phone and/or email consultations
Dominica Company Requirements to Incorporate
There are very few requirements in order to set up a Dominica IBC:
A single individual can set up an Dominica IBC with just one director and one shareholder to set up an offshore company (the director can be the same person as the shareholder)
Certified copy of identification pages of passport
Police clearance certificate
Dominica Offshore Corporate Taxation
Individuals and companies interested in establishing a Dominica offshore IBC benefit from a number of tax incentives including:
Tax exemption from all taxes for a minimum period of twenty years
Tax exemption from all income generated through an IBC including dividends, royalties, capital gains, inheritance, and rents
There are no exchange controls on the movement of funds by IBC's and there is unrestricted operation of bank accounts
Dominica is not party to any double tax treaties
Dominica Company Corporate Details
Dominica Companies Maintenance of Privacy
The IBC Act makes it an offence for anyone to reveal any information regarding a Dominica corporation, except under criminal investigations through a court order. The affairs of any offshore IBC can only be looked into when its principal is found guilty of a crime in his/her country of residence and only if that offence is deemed criminal in the offshore jurisdiction had the same act been committed there.


Tax Treaties and exchange of information
Double Taxation Treaties have been signed with:
Switzerland, Antigua and Barbuda, Barbados, Belize, Grenada, Guyana, Jamaica, St. Kitts and Nevis, St. Lucia, St. Vincent and the Grenadines, Trinidad and Tobago, Australia, Belgium, Canada, Denmark, Faroe Islands, Finland, Greenland, Iceland, Netherlands, New Zealand, Norway, Portugal, Sweden, UK, and USA.


Exchange controls
There are no foreign exchange controls and the US dollar is allowed to circulate freely throughout the economy.


Type of Law
Dominica's legal system is based upon British Common Law.


Principal Corporate Legislation
International Business Companies (IBC) Act 1996
Companies Act 1994
Other Offshore Legislation
International Exempt Trust Act 1997
Offshore Banking Act 1996
Restrictions to Business Activities
An IBC is restricted from conducting business in Dominica as well as any activities that include real estate banking, trust, or in insurance sector unless the appropriate license is granted.


Corporate Business Relations Allowances
Make and maintain deposits in Dominica
Engage professional services in Dominica
Hold shares, debt obligations or other securities in a company owned by a resident, locally registered company or one incorporated through the Local Companies Act.
Powers of Company
An IBC is given all rights, powers and privileges of an individual.


Name Restrictions
Restricted names are any that suggest the patronage of the Royal Family, the government, political party, university, professional association, or any names that may considered to be objectionable or that have already been taken.


Language of Name
Any language or alphabet, but if not in English a translation is required.


Suffixes to Denote Limited Liability
An IBC name must indicate Limited Liability, ex. Ltd, Corp.


Documentation Requirements
Copies of Articles of Association, Memorandum of Association, and Certificate of Incorporation, must be kept at the Registers office, though the register is not available to the public.


Shares
Shares may be issued: with or without par value, can be issued as registered or in a bearer form, can be issued for consideration other than money and without par value.


Incorporation time frame
1-2 working days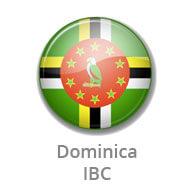 Dominica IBC Company Formation with Offshore-Protection
Join thousands of satisfied clients who have experienced the Offshore-Protection advantage for more than 18 years. When you purchase any offshore company formation product from us, you'll get FREE support from our lawyers to help answer your overseas company day-to-day management questions.