Company Legal and Office Service Provider
There are a number of offshore possibilities that individuals can use to further protect, expand and internationalize their company or assets. Offshore Protection offers a wide range of services that gives you the offshore protection advantage.

Our services reflect the needs of the internationalized individual. While many westernized high-tax jurisdictions increasingly are facing bank failures, increase in the rates of lawsuits, civil malpractice complaints, and legal cases there needs to be services that can assist the individual seeking to protect, diversify and internationalize.

Our offshore services are about providing clients with all the opportunities possible to safeguard against uncertainties. Our professional management and account signatory services assist in safeguarding your name and company assets, while our re-invoicing and annuity contracts can be used for effective tax-savings, and our virtual office services together all provide clients with an offshore opportunity.
Account Signatory Services
Our offices and staff can act as third-party signatory's on behalf of your company. This enables concerned parties to remain off-the-books. Through third party signatory powers we are able to fulfill duties through the appointment of Nominee Director's and Owners that act on your behalf.

For most people our recommendation for ultimate asset protection and tax efficiency is that with any structure you be neither manager, beneficiary, stockholder, officer or trustee - in other words it must be totally removed from any link to the corporate structure. However, many countries' tax authorities impose tough sanctions on those who do not disclose their signatory authority on foreign bank accounts. To disclose the details of such accounts and give up the very financial privacy that you are seeking, obviously makes little sense. Hence nominating a third party professional to act as signatory, who is not subject to such reporting requirements, is a solution. For more information refer to our Account Signatory Services.
Private Annuity Contracts
Private Annuity Contracts represent a contract that comes from a sale of an asset resulting in a periodic payment, or annuity payments, which are made to the receiver of the annuity.
These payments may be deferred as long as the Annuitant wishes which can be used together with appropriate offshore estate-planning tools transferred wealth can be given to heir or beneficiaries without paying estate tax. For more information go to Private Annuity Contracts.
Professional Management Services
Professional Management offers your Offshore Company complete management services together with the use of Nominee Directors that act as managers/shareholders/owners of the corporate entity keeping your personal details off the books. Appointing a professional management firm that will manage your non-controlled corporation provides you with the maximum ease and protection.

This may be important because the mere fact of being an officer may offer the appearance that you in reality still control the assets and thereby still retain a beneficial interest in them. For more information refer to Offshore Professional Management.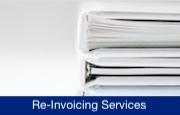 Re-invoicing Services
Re-invoicing is used through intermediary corporations that are established in low tax environments that enables onshore business to benefit from tax advantages.

Re-invoicing uses an offshore company to act as an third party between an onshore business and its customers that live outside ones country of residence. The profits of this intermediary corporation and the onshore business allow the accumulation of profits to be accrued offshore without being forced to pay capital gain or income taxes as long as the assets remain offshore. For more information go to Re-invoicing Services.
Third Party Nominee Services
Using third party nominee services for your offshore company gives you another layer of protection insulation. Nominee services can be used for Director and shareholders, where another individual is given powers over the account as a 'nominee' . A nominee is a title given to the person who holds the company as an effective manager under his/her name but does not have ultimate authority over it.
Nominee Services are popular as a means to separate ownership from an individual remain off of paperwork if discretion is needed and the beneficial owner does not want their name to remain public. For more information go to Third party nominee services.
Mail Forwarding Services
Our offices in Panama can act as a mail receiving and forwarding service. As most offshore company formation requires some form of office registration, secretary, or meetings, our offices can be used as hub for your offshore office.

In order to complement the proper establishment of their corporate offshore identity, our clients usually like to establish an efficient mail forwarding service with both a physical address for the receipt of packages sent by courier services such as DHL and Fedex, as well as a Post Office Box for receipt of mail. For more information refer to Mail Receiving and Forwarding.
Virtual Office Services
Our offices in Panama can act as a physical space for your office needs. Our virtual office services include general receptionist, corporate accounting, as well as general office and back office services.

We offer a variety of office administration services that assist in the maintenance and operation of offshore structures. In addition to mail forwarding services, and re-invoicing services our firm can provide virtually any type of local office function in Panama that is of either a front or back office nature. For more information refer to Panama Virtual Office Services.

Trademark Registration
We offer trademark registration in the US, UK, EU, Australia and Canada. Each country has its own separate Trademark registration authority and requirements that must be filed in each jurisdiction.
We can assist you through the process to get your business the corporate branding its looking for. For more information refer to Trademark registration.
Offshore Financial and Corporate Services From Offshore Protection
Join thousands of satisfied clients who have experienced the Offshore-Protection advantage for more than 18 years. When you purchase any offshore company formation product from us, you'll get FREE support from our lawyers to help answer your overseas company day-to-day management questions.