United Kingdom Private Ltd Company
Overview of a UK Limited Company
The United Kingdom (UK) offers several company formation vehicles, used for a variety of business endeavors.

The Private Limited Company (PLC) is the most widely used and gives individuals and companies the most flexibility out of all the other company types. Private Limited Companies are under the regulation of UK Companies Act 1985 which is the latest act that governs the formation of English Companies.
There are two main types of UK Private Limited Companies, those that are limited by shares and those limited by guarantee, the former being the most common.

There are over two million such companies registered with the UK Companies House, making the UK and the UK Ltd Company a long established destination for commercial and business activities.
The UK is a signatory to over 100 different forms of treaties and is a premier financial and banking financial centre. Its numerous trade advantages, proximity to the European Union, and its double taxation treaties all give UK companies an edge in the globalizing world of commercial and financial business.

Though the UK is a country that has traditional business regulations in a high-tax environment, they too offer corporate entities for non-resident with tax neutral possibilities, making the UK the next best thing in the offshore jurisdiction world.
UK Companies Act
The UK Companies Act goes back to 1985. Legislation has been amended twice since then, in response to the ever-evolving global financial marketplace.
A UK Private Limited Company is a separate legal entity that remains distinct from its members and directors.

All individuals and entities affiliated with a UK PLC have limited liability that protects them from being held personally liable for the debts incurred on the part of the company; making the maximum liability limited to the amount of capital or issued shares.
This attractive company formation structure gives single member companies and small businesses an opportunity to attract potential investors and gives legal and financial protection to members and shareholders alike.

For more information on the Advantages of the United Kingdom as an Offshore Financial Center, click here.


Advantages of Setting up a Limited Company in the UK
Single member ownership is available
Nominee Services are permissible
The UK has numerous Double Taxation treaties
The UK has over 100 trade agreements in place
A world leading financial centre
Access to various trade markets in the European Union (EU)
A private limited company has a separate legal existence from its members
A Limited company legitimizes itself for many business activities
A UK private limited company has a strong and structured shareholder conflict resolution procedure in place
Simply transferability procedures of ownership of shares.
A number of

national insurance benefits.

Limited Liability status gives credibility to suppliers and customers from the transparency of the UK company system
Business expenses can be claimed against tax
Top Uses of a UK Company
Commercial Activities
Trading House
Holding Company
International investment Company
Asset Protection
Private Limited Company UK: Key Corporate Features
UK Private Limited Company

Corporate Details

General

Type of Entity

Private Limited Company

Type of Law

Common Law

Governed by

UK Companies Act 1985




Amended in 1985 and 2006

Registered Office in

UK




Yes

Shelf company availability

Yes

Our time to establish a new company

1 – 2

business days

Minimum government fees (excludes taxation)

£15

Corporate Taxation

20 – 28%

Access to Double Taxation Treaties

Yes

Share capital or equivalent

Standard currency

GBP, £

Permitted currencies

Any

Minimum paid up

£1

Usual authorized

£

1,000

Bearer shares allowed

No

No par value shares allowed

No

Directors

Minimum number

One

Local required

No

Publicly accessible records

Yes

Location of meetings

Anywhere


Corporate directorship allowed

Yes *(but needs at least one individual)

Shareholders

Minimum number

One

Publicly accessible records

Yes

Corporate shareholder allowed

Yes

Location of meetings

Anywhere

Company Secretary

Required

No

Local or qualified

No

Accounts

Requirements to prepare

Yes

Audit requirements

Yes

*(small companies are exempt)

Requirements to file accounts

Yes

Publicly accessible accounts

Yes

Recurring Government Costs

Minimum Annual Tax

N/A

Annual Return Filing Fee

£ 15, electronic submission




£ 30, for hardcopy

Other

Requirement to file annual return

Yes

Migration of domicile permitted

Yes (subject to approval be Inland Revenue)



United Kingdom Company Package
Includes:
Government Registration Fee (First year)
Registered Office Address (First year)
Registered Agent Services (First year)
Company Secretarial Maintenance
Certificate of Incorporation
Memo & Articles of Association
Appointment of 1st Directors
Consent Actions of the BOD
Share Certificates
Register of Directors
Register of Officers
Register of Shareholders
FREE Phone and/or email consultations
Requirements for UK Company Registration
To open a company in the UK, you must first register the company in the UK with the following mandatory details:
Certified copy of passport
Names and details of directors
Details of shareholders and share capital
Registration fee
The Company's name and registered address (if pre-existing)
Articles of Association and Company Memorandum
Completed IN01 Form
UK Tax Rates for a Private Limited Company
UK incorporation regulations require Private Limited Companies to pay UK Corporation Tax at a rate of 20 – 28%, which is determined after a company has filed their annual returns. Company Directors are also liable to pay UK income tax for any profits from the company. No taxes are paid on the dividends of a holding company and there is no double taxation on dividends distributed through to EU member countries.
After setting up a company in the UK and going through the incorporation process, a Unique Taxpayer Reference (UTR) number will be issued by the HM Revenue and Customs (HMRC), which will be sent to the Company's registered address. The HMRC will instruct you how to register your company, file the company accounts and pay corporate taxes.


UK VAT – What is the VAT Rate in the UK?
The Standard VAT rate in the UK is 20%.
The VAT Reduced rate is 5% and applies to some goods and services, such as children's car seats and home energy.
If a company does not have an annual turnover of more than GBP 67,000, then Registration of VAT is not required. A Company that does register can collect a number of benefits through registration, such as the ability to reclaim input tax and collect VAT from customers. Companies register through the (HMRC) website.
Some things are exempt from UK VAT, such as postage stamps, financial and property transactions. The VAT rate businesses charge depends on their goods and services. Check the rates of VAT on different goods and services.


Corporate Details: Starting a Limited Company in the UK
Anonymity, Confidentiality and Disclosure
The details, information and names of all Directors and shareholders are made publically available. All financial and accounting records are publically available. The details of the beneficial owner are kept confidential. Nominee services are allowed, which can make names and details of shareholders and directors confidential.


Company Shares
A UK Private Limited Company may issue registered, preference, and redeemable shares and shares with or without voting rights, the details of which should be stated in the Companies formation documents.


Required Capital
The minimum paid up share capital for a UK Private Limited Company is GBP 1 with a usual authorized amount of GBP 1,000. Capital is usually denoted in the form of shares with one share being the minimum.


Financial Statements required
All UK Companies must file accounts with thee Register of Companies and the Inland Revenue. Companies that qualify as small companies, i.e. those with an annual turnover of less than GBP 5.6 million, may not need to have accounts audited and may apply for an audit exemption.


Directors
The minimum number of Directors needed for a UK Private Limited Company is one (1), who does not need to be a resident of the UK and may reside anywhere in the world and be of any nationality. Corporate Directors are allowed, however, a company must have at least one director who is an individual.


Company Secretary
A Private Limited Company does not require a secretary. If it is a single member company then the director can be the secretary.


Company Meetings
Company meetings are not required and, if meetings take place, they may be anywhere in the world.


Principal Corporate Legislation
UK Private Limited Companies are regulated by the UK Companies Act 1985 and its amendments in 1989 and 2006


Type of Law
English Common Law


Shareholders
There is minimum of one shareholder required for a UK Private Limited Company. A shareholder may be an individual or a corporate body and may be a resident and citizen of any country. Shareholders do not need to be local. Information and details of shareholders are made available to the public. Nominee services are permissible.


Trading Restrictions
A Company is restricted from conducting business in banking, insurance, consumer credit and all other activities in the finance industry.


Exchange Controls
There are no exchange controls in the UK.


Powers of the Company
A UK Private Limited Company has the same rights as a natural person.


Language of legislation and Corporate Documents
English or Welsh


Registered Office required
A registered office is required for a UK Company.


Local Presence
A local office Is required for all UK companies. Local Directors, Shareholders and Secretary are not mandatory. A list of all the shareholders must be held at the local registered office.


Audit Requirements
UK Companies are required to submit audited accounts, though all companies earning less than GBP 5.6 million can apply for an audit exemption


Annual Reporting
All UK Companies must file and annual return and annual accounts the UK Inland Revenue every year no matter if a company has traded or not


Shelf Companies available
Yes


Time required to form offshore company
1 – 2 days


Name Restrictions
An UK company may not use similar or identical names that are already in use, any name that suggests patronage of the Royal family or the UK government, any name that is undesirable or seen as being offensive


Names of Company requiring a special licence or permission
Company names that include the words assurance, bank, building society, insurance, reinsurance, are required to get prior approval from the UK Company Register


Permitted limited liability suffixes
A UK Private Limited Company must have the suffix Limited or Ltd.


Access to Double Tax Treaties
The United Kingdom has signed a number of double taxation treaties which can greatly benefit companies avoid paying double taxes


Minimum Annual Tax
N/A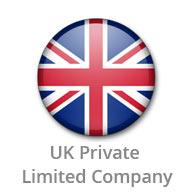 UK Private Limited Company Formation products from Offshore-Protection
Join thousands of satisfied clients who have experienced the Offshore-Protection advantage for more than 18 years. When you purchase any offshore company formation products, you'll get FREE support from our lawyers to help answer your overseas company day-to-day management questions.
Start the UK incorporation process with Offshore-Protection.com today. Order a UK Private Limited Company with or without a bank account below. For a tailor-made offshore legal consultation get in touch.