Best Crypto Exchanges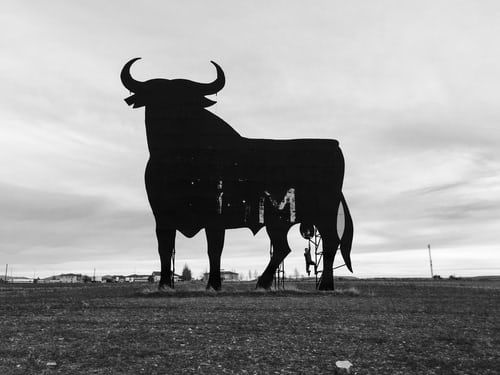 Cryptocurrency and digital asset markets have exploded in popularity and growth in recent years. Many are seeing the exciting potential of this new asset class, and want in on the action. In the early days of Bitcoin and the wider crypto market, the options for buying and selling crypto in a seamless and affordable manner was limited.
Fortunately, that has changed. Today there are now a multitude of excellent cryptocurrency exchange platforms where anyone from the complete beginner to the experienced crypto trader can easily buy and sell crypto at highly competitive rates. However, due to the fact that cryptocurrency is still a largely unregulated industry, it is important to carefully do your own research before diving in. There are still many scams out there, and not all crypto exchanges should be blindly trusted.
Table of Contents: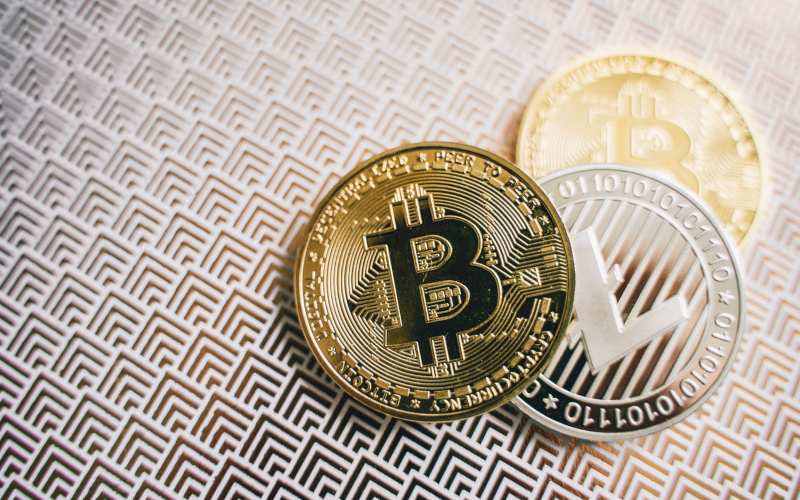 With that in mind, we have picked out five of the most established and all-round best crypto exchanges to suit just about anyone's appetite.
Don't forget, cryptocurrency is considered a high-risk investment, and you should always do your own research and consider the risks before investing.
Best for: Low fees, high liquidity, wide access to altcoins
Fees: Max 0.1% spot trading fee (decreases with volume traded), 0.5% simplified buy/sell fee
Cryptocurrencies available: 100+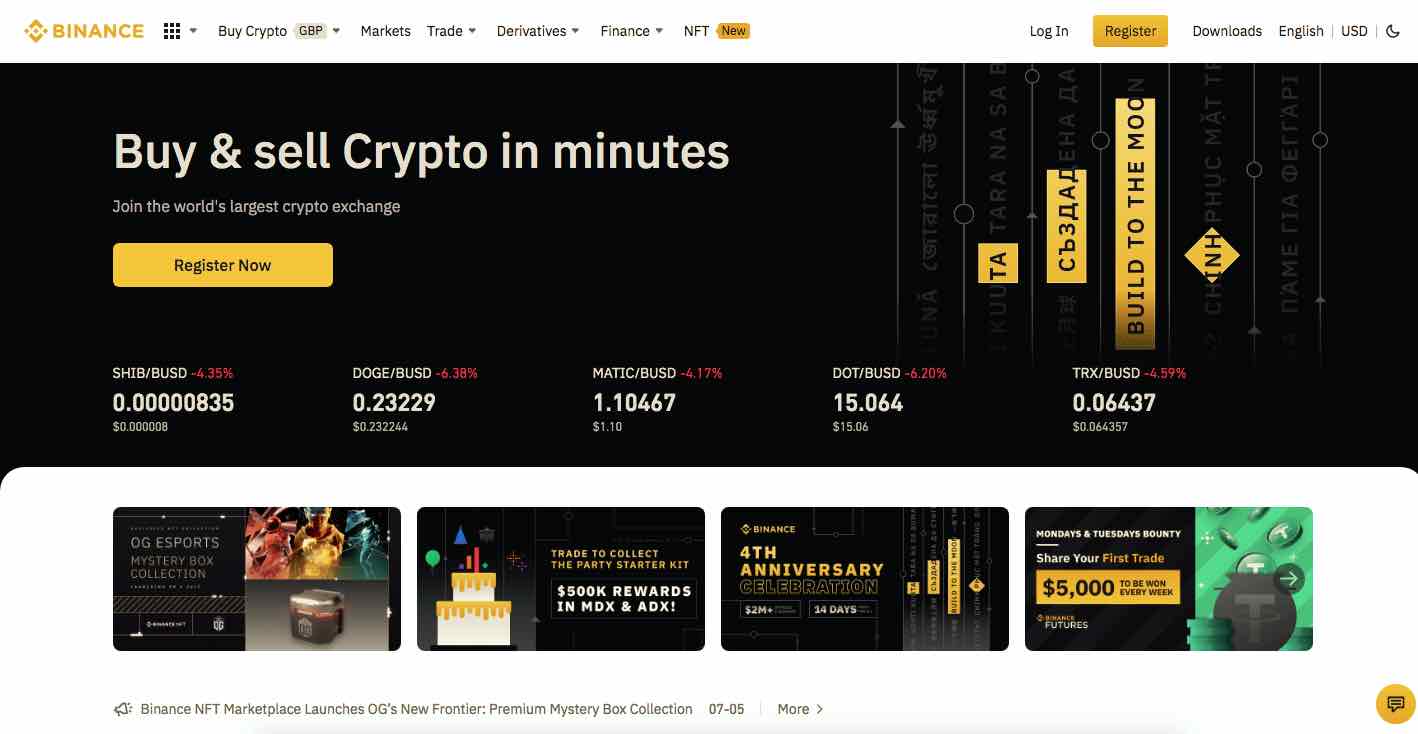 Why Choose Binance?
Since its inception in 2017, Binance has leapfrogged its competitors to become the number one most used crytpo exchange in the world. It is perfect for seasoned traders, as it offers a variety of trading and charting tools, the ability to set different order types (such as stop-loss, limit, and OCO), high liquidity, and the lowest fees of all major exchanges. Using Binance's own native coin, BNB, to pay for trading fees will provide a further 25% reduction in trading fees.
Binance has two platforms; their original international offering (which is not available to US residents), and Binance.US. The US based platform is similar to the full version, but with fewer trading pairs, and without their futures and margin trading capability.
Get a Consultation & Start Your International Plan
Binance is known to be one of the best exchanges for those who would like to invest and trade in a wider variety of lesser-known cryptocurrencies. Even Binance.US offers users access to over 100 cryptocurrencies. They also offer a variety of additional features and offerings, such as the ability to lend and stake crypto to earn interest, automated recurring buys, OTC trading, and institutional trading services.
Pros
Incredibly low trading fees
High liquidity
Advanced charting tools, analytics, and order types
Access to a wide range of cryptocurrencies
Cons
Binance.US is not available in all U.S. states, such as Texas, Connecticut, and New York, but according to Vpnpro you can use a VPN service for accessing Binance without any restrictions
Fewer trading pairs than its international parent company (Binance), but still plenty to satisfy most investors
Some basic knowledge is required, making it less suitable for beginners
Futures and margin trading not available for US citizens
_____
Best for: Beginners and Institutions
Fees: Up to 0.5% trading fee + $0.99 to $2.99 transaction fee when not using the Coinbase Pro trading platform.
Cryptocurrencies available: 50+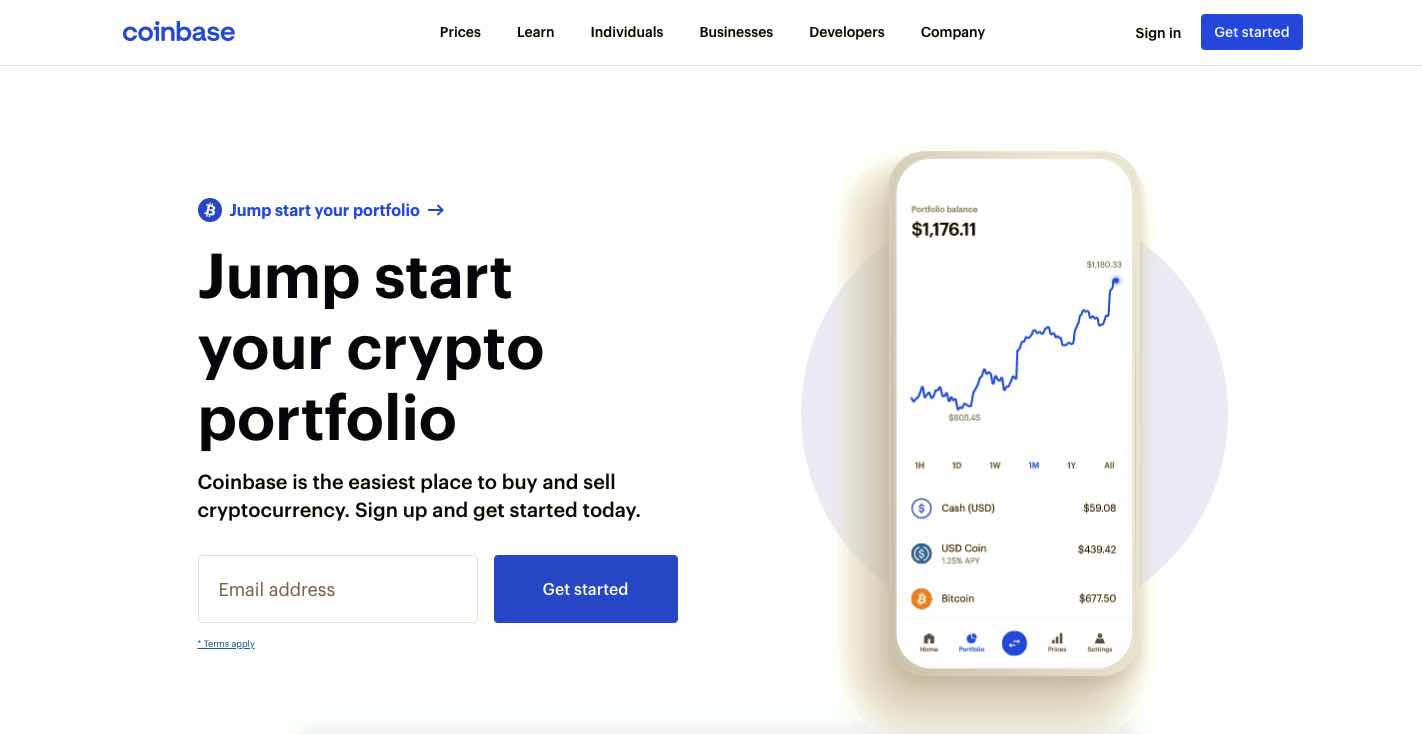 Why Choose Coinbase?
Coinbase is the most popular and widely used cryptocurrency exchange in the United States. It is one of the oldest exchanges still around, established in 2012. It is used by beginners and experienced traders alike, and is best recognised for its easy-to-use interface and high level of security. It also comes with a variety of additional features such as the ability to earn yields on crypto and stable coins, user-controlled storage, institutional trading tools, and more.
Coinbase also offers two additional platforms: Coinbase Pro for more advanced traders and Coinbase Prime for institutions and high-net-worth individuals. Coinbase Pro offers all the advanced features which more experienced traders would be looking for, such as the ability to set limit and stop-loss orders, trading bots, charting tools, etc. The Coinbase Pro fees are also lower than their standard basic platform, at a maximum of 0.5% per trade (which changes depending on volume).
Pros
Easy-to-use interface and purchase process, especially for beginners
Consistently high user reviews
Extremely robust security measures with fund insurance
Fully regulated and available in all US states except Hawaii
Over 50 cryptocurrencies available for purchase which should satisfy most people starting out in the cryptocurrency space
Cons
High fees when using the standard Coinbase platform
Coinbase Pro offers lower fees but they are still relatively high compared to other top trading exchanges
Although it does offer numerous trading pairs, you will have to look elsewhere for those more exotic altcoin picks
_____
Best for: Margin/leverage trading (up to 5x), security
Fees: Max 0.16%/0.26% (Maker/Taker), fees decrease with increased trading volume
Cryptocurrencies available: 50 +
Why Choose Kraken?
Kraken is one of the oldest US-based crypto exchanges which was founded in 2011, and has stood the test of time. It has a clean and classic trading interface with various advanced order types (including conditional closes on margin trades, take profit orders, limit, stop loss, etc.). This might still be a bit too complex for real beginners, but most intermediate traders should have no trouble navigating their way around.
Kraken is one of the only established exchanges which offers margin trading to their US customers. This allows you to take up to 5x leveraged trades. This makes it the ideal choice for US citizens who are looking for a safe and liquid platform for crypto margin trading. In addition, the trading fees are very reasonable, and decrease with more volume traded.
While Kraken doesn't offer the plethora of altcoin choices like Binance and KuCoin, it does have a decent collection of over 50 coins to choose from. They have also partnered with many projects to offer unique staking and rewards programs on some of their cryptocurrencies. Some of their other additional features include OTC trading, account management services for institutional investors and high-net-worth individuals, educational resources, and more.
Pros
Established exchange which has stood the test of time
High security ratings
Allows margin trading for US customers
Reasonable trading fees
Cons
The classic trading interface can be a bit "clunky" and takes some getting used to
Less liquidity than top exchanges like Binance and Coinbase
_____
Best for: Beginners, ease-of-use, security
Fees: $0.99 - $2.99 for standard transactions between $10 and $200, 1.49% fee for transactions over $200, 0.5% convenience fee for easy buy/sell orders, 0.25%/0.35% (maker/taker) fees on their spot trading platform
Cryptocurrencies available: 30+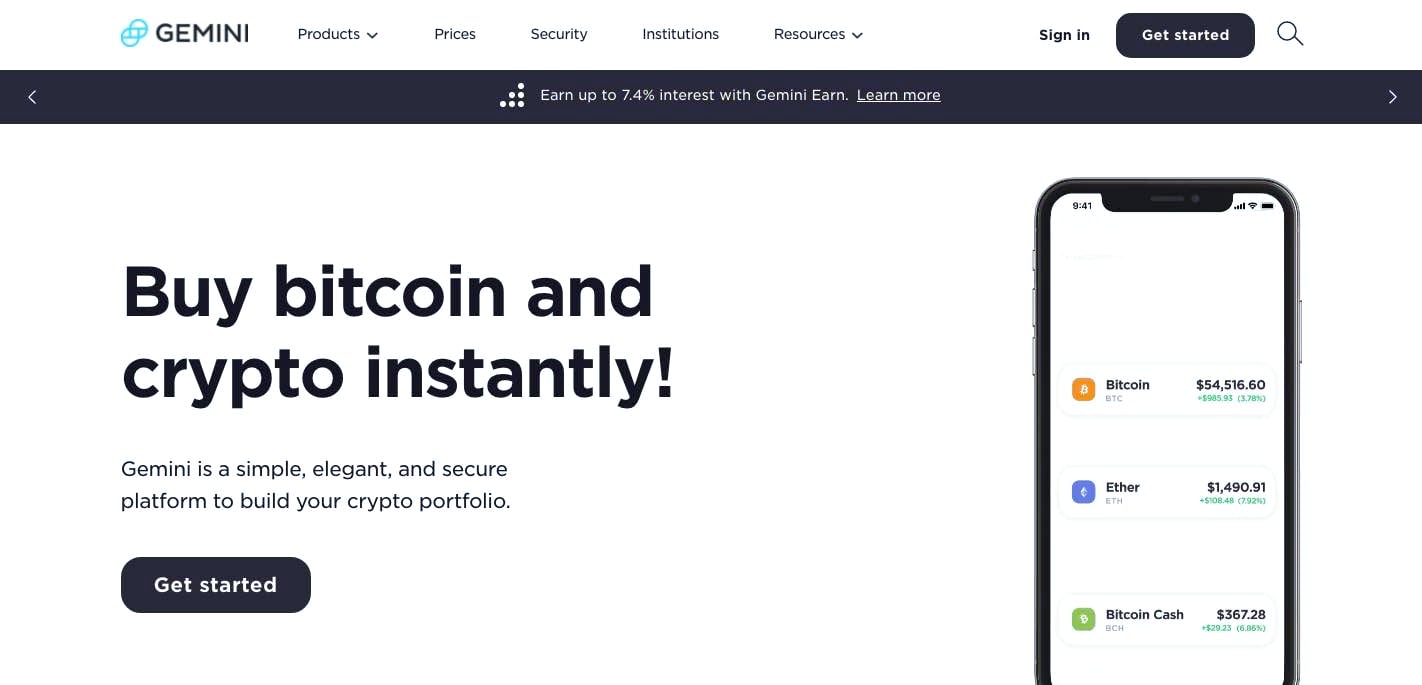 Why Choose Gemini?
Gemini is another perfect option for crypto newbies and beginner traders who are just having their first taste of the crypto markets. It provides a simple and easy-to-use interface which any beginner should have no trouble navigating.
While Gemini doesn't have the widest range of coins available, it's 30+ offerings should certainly satisfy most beginners and standard investors. Users can rest assured that they are using one of the most secure, fully insured exchanges available.
In addition to their basic interface, they also offer a more advanced trading platform for expert users. This means they can satisfy the needs of a range of customer types.
Safeguard Your Assets With the Strongest Multi Jurisdictional Asset Protection Structure in the World
One downside to Gemini is their confusing, and relatively high, fee structure. This is the price users have to pay for ease and convenience. The high fees can be circumvented by using their more advanced spot trading platform, but even then, they are higher than some of the other top exchanges on this list.
Gemini offers additional features such as the option to earn interest on your crypto, as well as cashback crypto credit card so that users can spend their crypto on ordinary day-to-day purchases.
Pros
Simple and easy-to-use
Incredibly safe exchange with insurance against losses
Additional features and offerings for various types of customers
Cons
Smaller selection of cryptocurrencies than other top exchanges
Confusing and high fee structure
_____
Best for: Widest selection of cryptocurrencies and hot new altcoins, low fees, added features
Fees: 0.1%/0.1% (Maker/Taker)
Cryptocurrencies available: 300+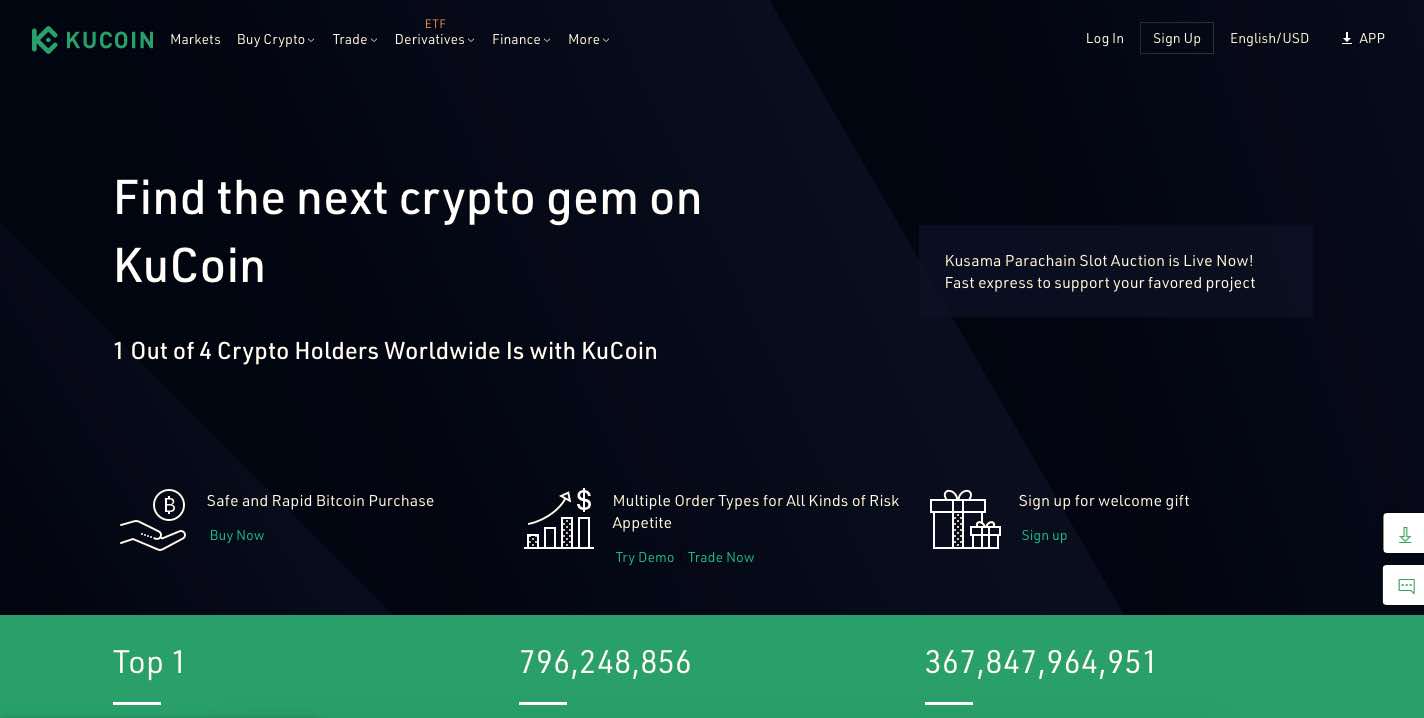 Why Choose KuCoin?
KuCoin has become the most popular go-to exchange for "crypto connoisseurs" and those looking to pick up some exciting new altcoins which might not be available on the other top-tier exchanges. They offer an extensive range of over 300 cryptocurrencies, and the list is expanding all the time. KuCoin is often the first centralised exchange that many new altcoins are listed on. It has been found that 1 in 4 crypto users use KuCoin.
While there are other smaller, lesser-known exchanges which also offer good selections of altcoins, KuCoin is the ideal choice due to the fact that it is also a remarkably established, safe, and highly liquid exchange. It also has an incredibly competitive fee structure which rivals the likes of Binance. It is also possible to get trading fee discounts by using their native token, KCS, to pay for trading fees.
In addition to these benefits, KuCoin also offers various additional features and services, such as the ability to earn passive yields from your crypto (with one of the best stablecoin lending returns available), access to free trading bots, OTC trading, crypto crowdfunding initiatives, and many more.
Pros
Widest selection of cryptocurrencies out of the established crypto exchanges
Good safety and security features (with insurance)
Access to margin trading
Extremely low trading fees
Cons
KuCoin only offers crypto-crypto trading pairs, meaning you must first purchase a US dollar stablecoin before you can trade on their platform
Stablecoins and other cryptos can be purchased through their site, but it must be done via a peer-to-peer market which may be difficult for beginners to navigate, and involves additional fees