Offshore Foundation and Offshore Trust: A Definition

An Offshore Foundation is a commonly used term to refer to a separate legal entity without members or shareholders, established under the wishes of a founder that is outlined in a Charter.
Whereas, an Offshore Trust is formed for the purpose of placing the assets of property ownership onto the name of a trustee, who holds it for the benefit of its intended beneficiaries.


Offshore Foundation
An Offshore Foundation is used for any number of activities including for personal, commercial or charitable purposes. Though its modern use has been mostly associated with its wealth protection, estate planning, and tax savings benefits. Provided that residents of the offshore jurisdiction were the foundation is located are not receipts or owners of the Foundation, than the Foundation is free from all local taxation.
A Foundation was introduced nearly 100 years ago in Western Europe for estate and asset planning in Liechtenstein. Since then, Foundations have become widespread, and are used in countries all over the world. Foundations are used primarily in Civil Law jurisdictions, where 'Anglo Saxon Trusts' are unknown.
A Private Interest Foundations have many of the same functions of a company, however, are afforded the asset protection benefits inherent in Trusts, which has important tax consequences. As the Foundation itself owns the assets, they remain free from taxation until they are distributed.
Read more about the benefits and uses of a Panama Foundation here.


Offshore Trust
An Offshore Trust trust is right of property held by one party for the benefit of another. An offshore Trust arrangement often referred to as a 'trust deed' is used as a recorded document outlining the specifics of the Trust. The use of Trusts shifts the ownership of property onto a third-party, or trustee, for a beneficiary.
A trust is a contract in which an individual (called a Settlor/Creator/Trustor/Grantor) transfers property to one or more Trustees to be held or managed for one or more Beneficiaries. There are many types of trusts in use today for a variety of purposes.
Contractual Trusts were the first recorded trusts, which originated back in the time of the Crusades in the 12th century when knights leaving for the Holy Land would set up trusts and convey their properties into them. Their goal was to protect them from appropriation or seizure while absent or in case of their death to ensure their chosen heirs inherited their estates. Two famous early 19th century Contractual Trusts in England were Lloyds of London (1811) and The London Stock Exchange (1802).
The use of trusts has since been used in nearly every field of human activity especially in the field of commerce and trade when used in combination with a corporation or limited liability company. There are two distinct advantages of having a trust, in that they are usually bound by contractual arrangement and can be easily changed and transported to other jurisdictions.
For more information visit our Cook Islands Trust and New Zealand Trust products.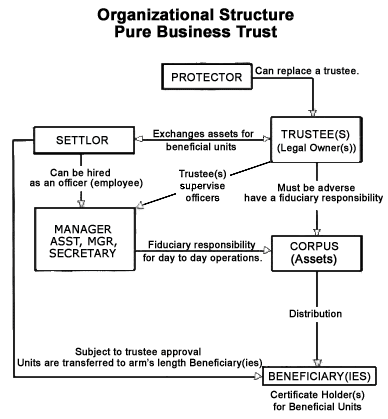 Efficient Offshore Structuring
The use of a Foreign Trust was once seen as the premier offshore asset protection vehicle of choice, however, there are now many laws in various countries that have stringent reporting requirements - thus making foreign based trusts subject to taxation.
Foundations, in contrast (such as the Panama Private Interest Foundation), are less easily classified and can be formed for any number of reasons making them less prone to being subjected to high taxation requirements.
There are, however, opportunities that give you options of paring a Trust (for instance a Cook Islands Trust), with an LLC (such as a Nevis LLC) or a PPIF (Panama Private Interest Foundation) giving you the maximum confidentiality and asset protection availability that money can buy.
Please contact us at Offshore-Protection.com to discuss what combination offshore structure might be suitable for you.