Panama – Still One of the Best Places to Retire
Panama – Still One of the Best Places to Retire
Protect Your Financial Freedom in Panama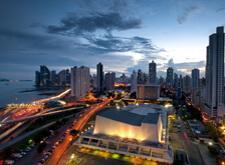 Recent changes on the world scene, from political to economic, have altered how we view virtually everything, from what to invest in to where we choose to live. Most of these changes, admittedly, have been negative. However, there is one place that has come out of the recent flux and uncertainty even better than before. We're talking, of course, about the tried and true haven for the global individual, and still one of the best places to retire – Panama.
Panama has certainly always been present among the thoughts of many retirees, primarily for their low cost of living. Recent changes among the rest of the world, as well as some exciting developments in Panama itself have conspired to make it the ideal destination for any who value their financial freedom.
Cost of Living
Variety is key in Panama. Whether your interests lie in small mountain cabins or high-rise executive apartments downtown, there is something to meet every taste and every budget.
Consider the colourful El Cangrejo, where you can experience the best of Panama City life, palm-lined streets dotted with restaurants, for an average of a cool US$2,000 a month, which includes rent, utilities, groceries, and a US$300 entertainment allowance.
Once famous for its low cost of living, Panama remains the best value for your lifestyle dollar. Another benefit is that the US dollar is the country's primary currency, eliminating the hassle of exchange rates.
Visas
Thanks to recent legislation, Panama now has a variety of visa options available for any who want to travel, or relocate, to the country. The Pensionados, or retiree, program allows those who qualify (among a few other minor requirements is the need for applicants to draw a pension of at least US$1,000 a month) to experience many of the significant benefits available to resident retirees in Panama. Topping the list of benefits are major discounts on entertainment, utilities, and hospital bills.
Whereas recent changes in countries around the world has resulted in long-time retirees being stripped of their residence, Panama pledges that once approved, pensionados will never be at risk of losing their prized status.
For those with the financial reserves to make investments may find that the Person of Means or the Forestry Investor Visas to be the ideal opportunity for obtaining residency in Panama, for US$300,000 and US$60,000 respectively. A wide variety of investment opportunities are made available for those qualifying for these options.
A new decree has opened the doors with a new type of visa for those professionally active expats and investors who don't qualify for Pensionado status and are citizens of one of about 40 different countries (with whom Panama maintains cordial diplomatic relations).
Known as Executive Decree 343, the program requires merely a simple application form, the formation of a local company and some sort of business plan unless a successful job application is foreseen, US$5,000 deposited in a bank account, and an additional US$2,000 deposit per applicant. Once approved, obtain your work permit, and you're ready to start living the dream as a productive member of Panama society.
Of course, one thing that hasn't changed is the easy-to-obtain Tourist Visa, which lasts up to 90 days. Even that can be beneficial, though, with the time limit extending to accommodate any who are actively applying to more permanent status.
Why Panama?
Obviously, Panama is opening wide its doors to the citizens of the world. So, besides the lower cost of living, just why would one want to relocate? Health care is certainly a hot topic both at home and abroad. Panama offers cutting edge medical treatment, in modern technological surroundings, for a fraction of the cost you'd expect to pay in most countries.
Although a large part of Panama is hot and humid, there are actually a wide variety of climates available, from the beautiful Caribbean coastline to the cooler mountain interior and cloud-covered peaks. The hustle and bustle of the city, or the exotic beauty and solitude of lush rainforests, there really is something available for everyone.
Investor and asset protection-friendly laws governing banking, corporations, trusts, and private-interest foundations help Panama to remain a haven for financial freedom.
With instability and downright decline ruling the scene of so many countries in the world, it's becoming imperative to find locations of safety, security, and real freedom. By upholding the principles of individual sovereignty, financial freedom, and personal privacy, Panama has positioned itself as one of those premier locations.
Contact Offshore-Protection.com today for more information on protecting your financial freedom globally.