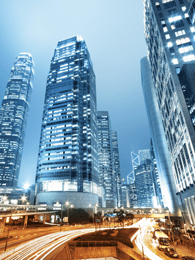 The Offshore financial sector can be seen to have first begun in 1815, Vienna, when Switzerland stated that it was to become a neutral state.
The industry developed slowly over the next hundred years and was primarily used by the European elite, remaining a relatively small scale industry.
It wasn't until after World War II as the British middle class sought a way to protect their assets from a successive series of oppressive British governments who imposed a punishing top income tax rate of 90% that the development of a more expansive unregulated financial industry was established.
British legislation was passed during the 1960's that gave permission for the use of trusts; together with the creation of the Euromarket this effectively gave banks permission to carry out unregulated deals with foreign entities if they used foreign currency, which both helped to create a more liberalized financial system.
After dissolution of the British Empire many of its former territories took this newly found freedom and turned it into an opportunity.
By effectively creating a safe haven for foreign assets, they were able to generate a surge of new profits that were used for the development of their newly found freedom.

The offshore industry now covers the globe and remains an integral part of international finance.
Low tax vehicles are offered by many 'traditional' financial centres throughout the world, such as the UK and NZ and are doing so in order to entice foreign companies, and to remain competitive in today's globalized marketplace.