Living in Panama with the Friendly Nations Visa
Living in Panama with the Panama Friendly Nations Visa
Retire in Panama | Panama Immigration | Panama Passport | Panama Residency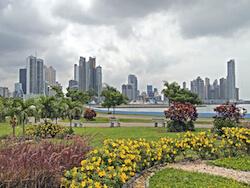 If you've always wanted to retire in Panama or if you're thinking of moving to panama, now is a great time to turn those thoughts into action. Panama is considered by many to be the easiest country to get permanent residency.
Panama immigration laws allow citizens of many countries deemed 'friendly', including the United States, Canada and most of the Eurozone countries, to apply for a Panama Visa and acquire permanent residency.
The law, known as Executive Directive 343 and established in 2012, gives qualified foreigners from these countries and their eligible dependents the fast track to permanent legal residency (and an immediate official identity card).
The visa is limited to those who can demonstrate 'professional and economic' ties with Panama. This generally means starting a new business, buying an existing business, or being hired as a professional by a Panama company.
Restrictions include that a foreigner may not own a retail business in Panama nor work as an architect, attorney, engineer, medical doctor or veterinarian. An applicant must show economic solvency, a criterion that can be met by depositing US$5,000 (plus US$2,000 for each dependent) into a Panama bank, or in the case of a professional, showing proof of income from the employer.
Upon receiving the application and required documentation, Panama's immigration office generally issues a one-year temporary residency card. Upon approval, the office issues a permanent residency card. After five years permanent residents may apply for full citizenship.
Application requirements include a Panama-approved notarized authorization for a Panama attorney to act on the applicant's behalf, a criminal background check (usually an FBI background check in the case of U.S. citizens), and a copy of the applicant's passport, to name a few.
Supporting documents of economic activity may include those showing the applicant is the owner, majority shareholder or board member of a Panama corporation. For a new company, supporting documents may show proof of a franchise tax having been paid and the company's commercial license.
If the corporation or company has been around for a year, supporting documentation may include proof of its tax return and a copy of its 'paz y salvo' (in good standing) certificate. Further proof can include bank accounts and other documentation showing real property or activity that generates income.
Supporting documentation for professional activity generally includes an employment contract with a Panama company registered by the country's Social Security office, along with a social security card and work permit. Panama has established an expedited approval process for work permits given to citizens of countries deemed friendly.
Offshore-Protection.com can help you with applying for Panama's Friendly Nations Visa, relocating to Panama and/or obtaining permanent residency in Panama.
Visit the Panama's Friendly Nations Visa page for more information on Panama residency requirements for 2013 or simply contact us for a free consultation.